Prepainted Galvanized Galvalume Steel Coil/ Color Coated Steel Coil/ PPGI PPGL
Product Detail
Product Tags
PPGI & PPGL (prepainted galvanized steel & prepainted galvalume steel) also known as pre-coated steel or color coated steel coil, It is a product made of hot-dip galvanized steel sheet, hot-dip galvalume steel sheet, electro galvanized steel sheet, etc. After surface pretreatment, one or several layers of organic coating are applied on the surface, and then baked and solidified. The color coated steel coil is light in weight, beautiful in appearance, and has good anti-corrosion performance, and can be directly processed. The color is generally divided into gray, sea blue, brick red, etc. It is mainly used in advertising, construction, decoration, home appliances, electrical appliances, Furniture industry and transportation industry. The coatings used for color coated steel coils are based on the environment in which the resin is selected, such as polyester silicon modified polyester, polyvinyl chloride plastisol, polyvinylidene chloride, and the like.

Diagram of Steel Surface Coating And Layers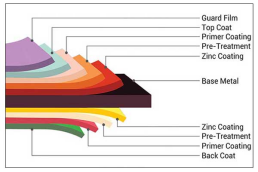 PPGI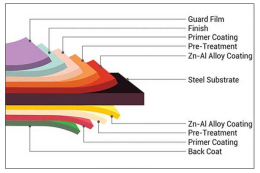 PPGL

1.Hot-dip galvanized color coated steel sheet(prepainted galvanized steel sheet)
The product obtained by coating an organic coating on a hot-dip galvanized steel sheet is a hot-dip galvanized color-coated plate. In addition to the protective effect of zinc, the hot-dip galvanized color-coated sheet also protects against rust and has a longer service life than hot-dip galvanized sheet;
2.Hot-dip aluminum-zinc color coated sheet(prepainted galvalume steel sheet)
Hot-dip aluminum-zinc steel sheets can also be used as color-coated substrates (55% AI-Zn and 5% AI-Zn);
3.Electroplated zinc color coated sheet
The electro-galvanized sheet is used as the substrate, and the product obtained by baking with the organic coating is an electrogalvanized color-coated plate. It has a beautiful appearance and excellent processing properties, and therefore can be mainly used for home appliances, audio, steel furniture, interior decoration, and the like.
Polyester (PE): Good adhesion, rich colors, wide range in formability and outdoor durability, medium chemical resistance, and low cost.
Silicon modified polyester(SMP): Good abrasion resistance and heat resistance, as well as good external durability and chalking resistance, gloss retention, general flexibility, and medium cost.
High Durability Polyester(HDP): Excellent color retention and anti-ultraviolet performance, excellent outdoor durability and anti-pulverization, good paint film adhesion, rich color, excellent cost performance.
Polyvinylidene Fluoride(PVDF): Excellent color retention and UV resistance, excellent outdoor durability and chalking resistance, excellent solvent resistance, good moldability, stain resistance, limited color, and high cost.
1.Good durability and long life compared with galvanized steel.
2.Good heat resistance, less discoloration at high temperature than galvanized steel.
3.Good thermal reflectivity.
4.Processability and spraying performance similar to galvanized steel.
5.Good welding performance.
6.Good performance-price ratio, durable performance and extremely competitive price.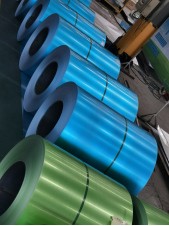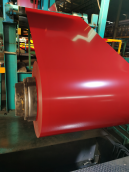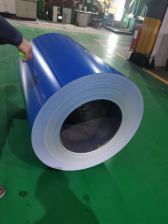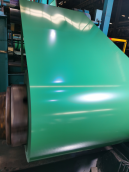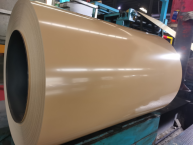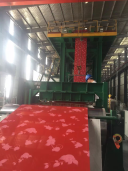 01.Advanced equipment and
Four prepainted galvanized steel coil production lines, using the most advanced equipment in China, a plant area of 133,000 square meters.
02.High-quality base steel
We choose high-quality raw materials. Our base steel comes from Baosteel, Shougang, etc., and our coating materials come from Nippon, Aksu and other well-known international brands.
03.Output
Galvanized steel coils with a monthly output of about 25000 tons, and have sufficient inventory.
04.Quality inspection
The implementation of strict quality inspection standards, products comply with ISO, SGS international standards, to ensure 100% compliance with customer requirements.
05.Fast delivery
Advanced production management process, from production to delivery, efficient and fast.
06.Sales services
We have professional sales staff dedicated to answer and meet customer inquiry and requirements all the time.
Product Packing and Shipping:
We offer different modes of transport depending on the customer's destination: rail or sea.

Guide For Ordering Products:
A user need provide the following information while placing order
01.Product designation (steel coil or plate)
02.Product standard number
03.Steel grade
04.Product specification and size accuracy (incl. thickness, width and length)
05.Edge status
06.Surface quality level
07.Flatness accuracy
08.Type, coating weight and surface treatment in case of coated products
09.Surface structure in case of hot dip galvanized products
10.Weight
11.Packing method
12.Application
13.Other special requirements
---
Previous:
CHUNDI Specialty Chemicals in Oil Field
---